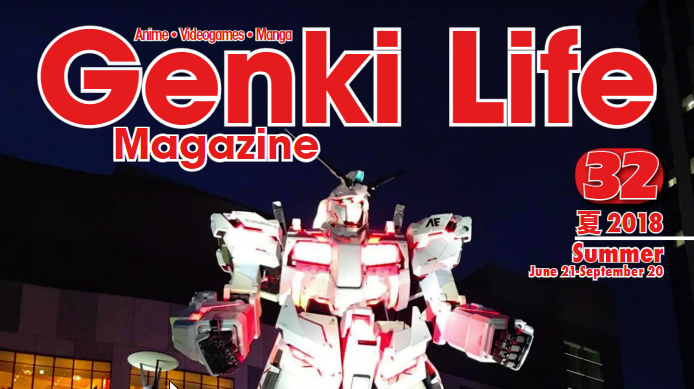 NOTE  — CLICK HERE to access Genki Life Magazine issue #32.
You know, I have submitted many articles to Genki Life Magazine over the years, however, this is the first real time I am posting about it on my website.  I have not been very consistent with my own site, so I did not have too much time nor desire to post about anything else, but I feel like since I am taking my website more seriously I need to also give a shoutout to those who I have collaborated with.
For those of you who do not know, Genki Life Magazine is a free online digital publication that releases quarterly and features tons of content.  The issue that has just released is Genki Life Magazine 32, featuring articles like "New Anime: Summer 2018", "2018 Summer Swimsuit Special", and "Log Horizon: Game Mechanics and Human Rights".  Not only that, but it features things like upcoming convention schedules and anime character information.
 MY CONTRIBUTION 
These are the articles I submitted that were included in issue #32 of Genki Life Magazine.
DARLING in the FRANXX — What Does it Mean to be Human? (Anime Editorial)
Sleepy Princess in the Demon Castle (Manga Review),
citrus (Anime Review).
 ABOUT GLM 
Genki Life Magazine is a FREE digital fanzine that comes out quarterly…every new season from fans for fans.  If anyone has a review, article, opinion, fanfic, fan art, advertisement, promotion or anything pertaining anime, anime gaming and sci-fi, etc., send it on in!
Genki Life Magazine brings you news, reviews, con-schedules, cosplay, upcoming anime, manga, video games and more!
---
RATE: