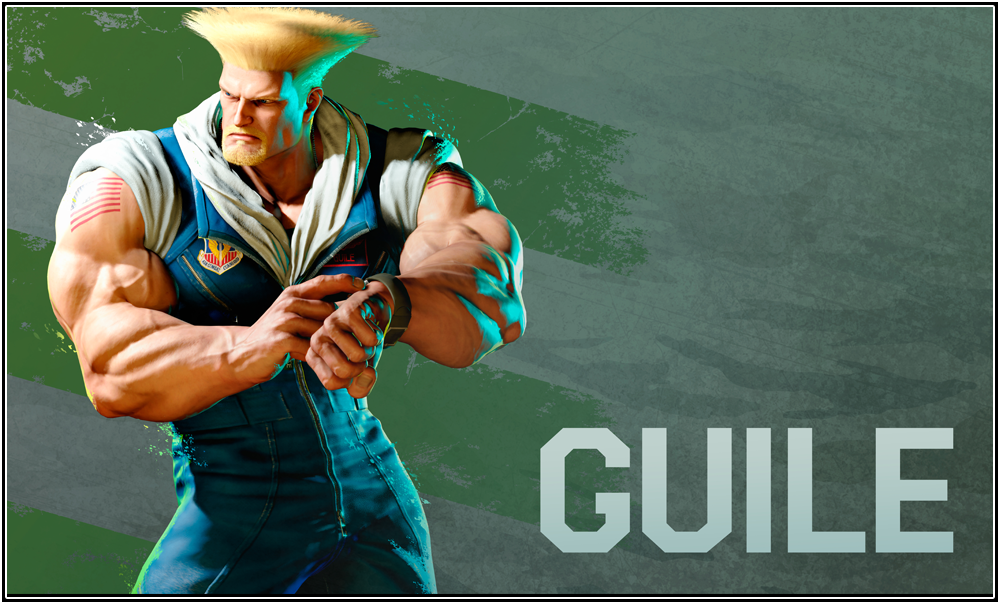 Press Release
America's hero is back! As featured at the Summer Game Fest 2022 showcase, Guile arrives as the fifth character to be revealed for Street Fighter™ 6. Guile finds himself alongside legends and new faces like Chun-Li, Ryu, Luke and Jamie who were the first members of the Street Fighter 6 roster revealed during last week's PlayStation State of Play broadcast. Street Fighter 6 represents the next evolution of the Street Fighter™ series and launches worldwide in 2023.
Tough as ever, Guile's move set in Street Fighter 6 brings back some of his classic arsenal and introduces new attacks that continue his legacy of intensity and power. Challenge yourself to pull off each of the high-powered attacks with the Classic Control Type, or jump straight into the action with the brand new, simplified Modern Control Type. His moves include:
Somersault Kick (Flash Kick) – The classic backflip kick
Sonic Boom – Guile's main projectile ability
Sonic Blade – A stationary aerial slash
Sonic Hurricane – A massive aerial slash that lands directly ahead or diagonally upwards
Solid Puncher – Fires a flurry of small Sonic Boom projectiles
Crossfire Somersault – A brand new Super Art that fires a massive aerial slash followed by a devastating Somersault Kick
For more details on Guile, please visit the Capcom Blog here.
 
About Street Fighter 6
Powered by Capcom's proprietary RE ENGINE Street Fighter 6 spans three distinct game modes including Fighting Ground, World Tour and Battle Hub. The experience also includes innovative new gameplay features, plus enhanced visuals for every aspect of the game. With more ways than ever to play, Street Fighter 6 has something for everyone – new and old fans alike – and will be ready to take on all contenders when it launches in 2023 on PlayStation®5, PlayStation®4, Xbox Series X|S and PC.
Guile Gameplay Trailer
---
IMPRESSIONS
When it comes to the Street Fighter series, Guile is always one of the lamest characters. They made him a stereotypical American who's just another grunt solider within the army. His playstyle is also pretty plain, consisting if only really Sonic Boom and Flash Kick. However, he's been spiced up a bit over the years, but still looked relatively lame in both playstyle and presentation in Street Fighter V; so when the leaks pointed to him being a returning character in 6, I was thinking "Waste of a character slot".
I can thankfully say I feel differently after watching Guile's trailer.
Guile looks noticeably older because of the goatee and one-piece outfit, like he's an aircraft mechanic instead of an active duty soldier, or possibly just part of the staff unless he has a Special Forces mission. However, he still looks like he stays in shape and is possibly known for his hand in taking down Shadoloo. Unlike previous designs, he actually has eye brows.
Playstyle has a lot of similarities, such as his typical target combo, double sweep, Sonic Booms, and Flash Kicks. However, he seemed to have new moves added into his arsenal, which includes multiple smaller sonic booms which can be thrown like his V-Trigger in Street Fighter V. While he has the "Sonic Hurricane" which crossed over from the "VS" series into Street Fighter V, it has appeared once again in Street Fighter 6. However, he seems to have a new Critical Art which sees him knock his opponent into the air, throw a Sonic Boom, then step on their chest mid-air for another Somersault.
This trailer definitely turned my hype for Street Fighter 6 ALL the way up! If they can make a character as boring as Guile into someone I might consider trying out, then I can only imagine what's in store for all the returning characters and what they've dreamt up for the new additions they've got coming our way. Cannot wait!
---
RATE: