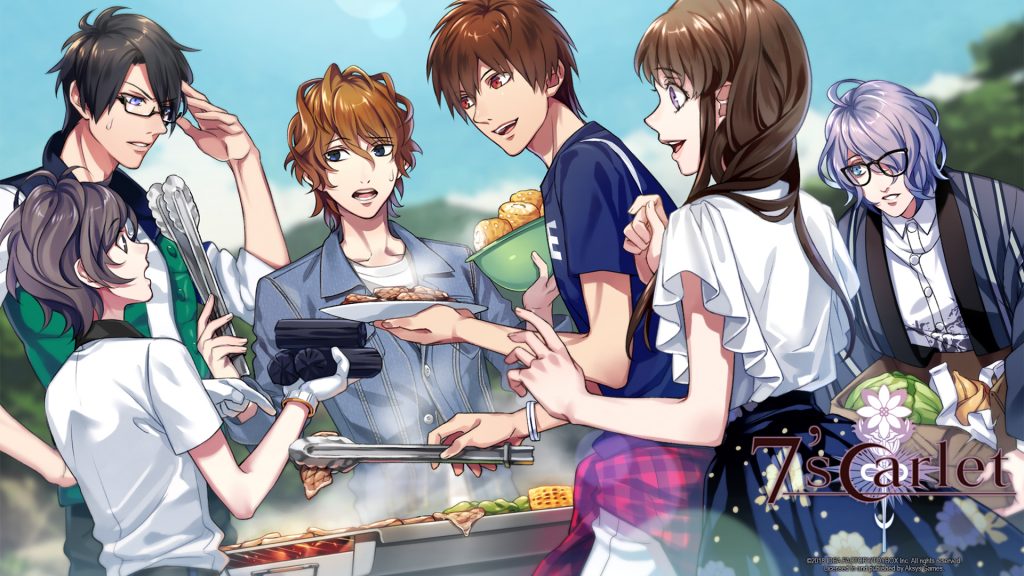 Announcement Trailer 
---
 Press Release 
---
Aksys Games is proud to announce the moonlit wonder of 7'scarlet has launched in North America!   Developed by Idea Factory and Toybox Inc, 7'scarlet is a beautifully interwoven story of suspense, romance, and mystery. Take on the role of a brave young woman journeying into the unknown to uncover dangerous truths and locate her missing brother.  7'scarlet is one in a trio of otome (interactive fiction) titles coming out in Summer 2018 from Aksys which include an oversized 3" x 4.5" collectible character card set inside the game case. Fans who purchase all three titles can receive an exclusive set of enamel pins.
Shaped like a crescent moon, the remote town of Okunezato is shrouded in dark myths and legends. Following the disappearance of her brother, Ichiko ventures to Okunezato with her childhood friend, Hino. They find the area rife with mystery and populated by intriguing characters, each harboring their own hidden motivations. Encounter heart-racing twists and turns as you dig deeper into the mystery and use your detective skills to solve this challenging interactive puzzle. Players can explore multiple character paths and change the course of the story as it plays out against beautifully illustrated environments with dynamic background effects.
From creepy towns to shadowy mansions and ancient feuds, each of the three "Summer of Mystery" games feature suspenseful storylines and include a premium set of oversized character cards. Customers who purchase either physical or digital copies of the designated titles may email their receipts to get an exclusive set of collector pins. Only 1,000 sets of the enamel collector pins will be made, and are available on a first come, first served basis to US residents only between April 27 and July 31, 2018, or until supplies run out. A small shipping and handling charge will be applied, and pins begin shipping on July 1, not before.
Visit http://aksysgames.com/7scarlet/ for more information on 7'scarlet and http://aksysgames.com/summerofmystery/ for more information about "Summer of Mystery".  Follow the Summer of Mystery on @aksysgames (twitter) to keep up with all the latest news.
7'scarlet has been rated 'T' for Teen by the Entertainment Software Ratings Board (ESRB).
 Key Features 
• Choose Your Fate – Explore multiple character paths and change the course of the story! Play through the game multiple times to uncover the entire tale.
• Experience Stunning Artwork – Witness this colorful story coming to life with beautiful character illustrations and dynamic background effects.
• Unravel the Enigma – Use your detective skills to question the eclectic members of the "Mystery Club" and solve this challenging interactive puzzle.
• Play the Best – Experience a crime-solving mystery from famed developer Otomate (Idea Factory), makers of the finest visual novel/romance simulation adventures.
 Screenshots 
---
---
RATE: