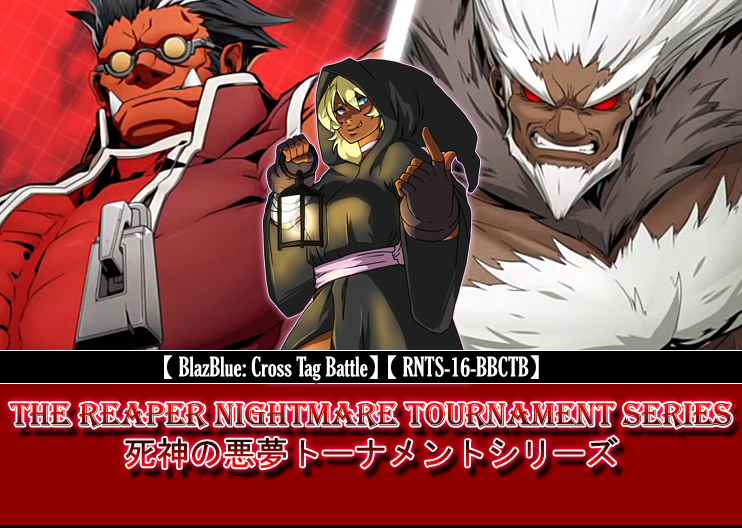 Thursday, June 13th marked the 16th tournament for THE REAPER NIGHTMARE TOURNAMENT SERIES | 死神の悪夢トーナメントシリーズ and the featured game was BlazBlue: Cross Tag Battle!  8 competitors fought it out to see who would come out on top!
Many amazing moments happened within this tournament, everything ran smoothly, and white hot battles were had as per the usual!  Check out the Top 8 matches, tournament results, and the match highlights below!
Top 8 Matches
---
Time Stamps
Tournament Results
---
Champion
Follow_Your_Dreams
2nd Place
Pheonixeon
3rd Place
Samhdrums
4th Place
TNS_Sandwich
5th Place
Shin_Zephyr
Void_Dono
7th Place
Tikhaos
Ultimate_Lotad
9th Place
Rennikz
BlazBomber
Velanovania
itsjdawg14
13th Place
DandyMancannon
Tournament Highlights
---
Match 2 of BlazBomber vs Void-dono was ridiculous. Went from a neutral-based match to a killer scramble nigh instantly as soon as they got close to one another. This match painted a clear picture of how the rest of the set would go, but Void ended up taking it in a decisive game 5 victory.
Tikaos asked to buy the game's new DLC in the middle of his Winner's Quarterfinals match against TNS_Sandwich. This was a real WTF moment, and the entire staff had a good laugh. That was until he asked to use the bathroom, purchased the DLC, and then had to install it. We had no choice but to disqualify him to the loser's bracket.
Ultimate_Lotad vs ShinZephyr had an amazing comeback in Match 1 of Top 8. After being caught in a happy birthday where 8,000 damage to each character, Zephyr managed to make a come back and went the set 3-0.
TNS_Sandwich beat ShinZephyr twice, each time being down to only one character; Ruby and Seth respectively in match 1 and 2. I feel like Zephyr had the matches in the bag each time, but of that he dropped the ball and crumbled under pressure.
Phoenix had a dominating 1st game against Drums, showing masterful play with his team of Vatista and Blakes; went on to win the match 3-1.
Phoenix losing 1-3 in Grand Finals was a heartbreaker simply because this man has gotten so close on so many occasions to winning an RNTS, coming in 2nd and 3rd place on numerous occasions. This also continues the trend of whoever makes it into Grand Finals on the winner's side wins the tournament.
---
RATE: